The Clarke Focus® II MicroRider™ is a small, easily maneuverable machine that is designed to clean the areas that are inaccessible with larger riders—including those with limited access or tight corners. Yet, with a 26 or 28 inch deck, the Focus II MicroRider offers a wide cleaning path for maximum productivity in your larger cleaning areas.
Features and benefits include:
BOOST® Technology with chemical-free floor finish removal makes the rider a dual-function scrubber
SafetyGlide™ scrub deck ensures quality cleaning results with 100% water pick-up
Easy operation with Safe-T-Steering™ increases operator safety
Quiet operation makes daytime cleaning and cleaning of noise-sensitive areas viable
Optional Chemical Mixing System automatically delivers the correct mixing solution to the brush deck
Comfortable driver compartment with customizable features can be optimized for virtually every operator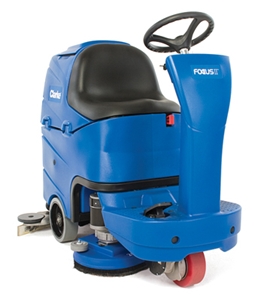 Click
here
to learn more about the Clarke Focus II MicroRider.